When should in-person patient care become virtual care?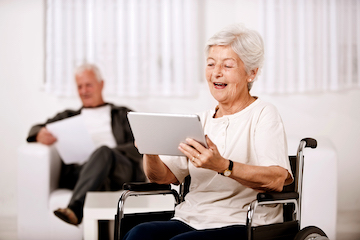 Remote care has quickly grown to become a standard in efficient healthcare delivery. 76% of U.S. hospitals connect patients and clinical teams through remote care technology. In many cases, telehealth delivers effective care to the right patient, from the right type of health specialist, at the right time.
Telehealth became even more critical as a healthcare strategy at the onset of the COVID-19 pandemic. It increased patients' access to care and offered insights on symptom severity, helping providers make necessary referrals while allowing patients to self-monitor at home under quarantine.
Delaware Valley Community Health (DVCH) — a non-profit care provider that provides medical, dental, behavioral health and preventative services to underinsured or uninsured patients — was one of many organizations that found new opportunities for remote care during the height of the pandemic.
Access the full on-demand recording of our webinar with DVCH to hear our entire conversation with them.
Virtual care offers comfortable, convenient treatment for patients challenged by a variety of conditions. New breakthroughs in remote care technology — and inherent limitations in episodic care — make remote healthcare a reality for many patients who previously needed in-person treatment or follow-up.
When should in-person healthcare go virtual?
Remote care cannot, and should not, replace all in-person treatment. Many patients require in-person medical attention to address challenges like kidney failure, allergic reactions, or open wounds.
Other medical conditions also require some level of in-person care. These include:
Emergency conditions: Patients experiencing life-threatening symptoms or trauma that requires immediate in-person treatment.
Surgical procedures: Patients who need operations, particularly invasive operations, who might also need pre- and post-operative care and assessments.
Physical examinations: Patients who require specialized tests that help practitioners diagnose conditions and prepare treatment plans.
Mental health conditions: Patients struggling with depression, psychosis, and other mental health conditions often require in-person forms of mental health treatment.
In-person patient care is an important part of the healthcare delivery model, but it faces several limitations — particularly when that in-person care is episodic and the only method for accessing a healthcare provider. The in-person-only care model currently faces several considerable challenges:
Long patient wait times
Overworked clinical teams who quickly experience burnout
Challenges in patient program adherence and consistency during follow-up
These are the challenges that remote care helps to alleviate. Virtual care helps reduce patient wait times by allowing physicians to leverage technology as a force multiplier. It helps clinicians save time and operate with higher efficiency. And it improves patient follow-up consistency by providing a complete picture on patient health and promoting patient accountability for their own well-being.
Using virtual care for chronic conditions
Virtual care is particularly helpful for the estimated 133 million Americans currently living with at least one chronic condition.
Our CEO, Drew Schiller, speaks from experience in emphasizing the importance of remote care programs for the four out of five seniors living with at least one chronic condition:
"Later in life, alongside obesity and hypertension, my grandmother was diagnosed with COPD. It was this last condition that unfortunately ended her life. She was in her room at an assisted living facility when her lungs gave out, and she passed out before she was able to call for help."
With more people requiring a higher degree of care, and fewer healthcare workers available, the world needs tech-enabled solutions that allow clinicians to practice at the top of their license. The future of personalized care will help lower the total cost of care and help clinicians operate more efficiently.
Personalized, remote care programs are the future of chronic condition management for millions of people:
Clinicians can enroll patients in cost-balanced programs tailored to their ongoing clinical healthcare needs.
Clinicians become more efficient when patient data integrates directly into EHRs.
Clinicians can monitor multiple chronic conditions with a variety of connected medical devices.
Personalized care isn't "one more thing" for already-overworked clinicians to handle. Instead, it helps clinicians perform the tasks they already perform in a more efficient manner. In a recent study, 88% of clinicians say these programs save them time. 92% say they feel like they deliver better care as a result.
Patients also prefer virtual care — demonstrated by high patient satisfaction scores, improved care plan adherence, and better outcomes. In a recent study of 1,106 patients enrolled in a Validic-powered remote care program, 75% of patients say they feel like they receive better care in virtual care programs. 76% of patients still record readings at least twice per day after 90 days of enrollment.
For more information about Validic's personalized care solution and device logistics capabilities, email us at hello@validic.com or contact us here. Stay connected with us @Validic on Twitter and LinkedIn.
---