Validic's 2020 product releases: New solutions, data sources, and devices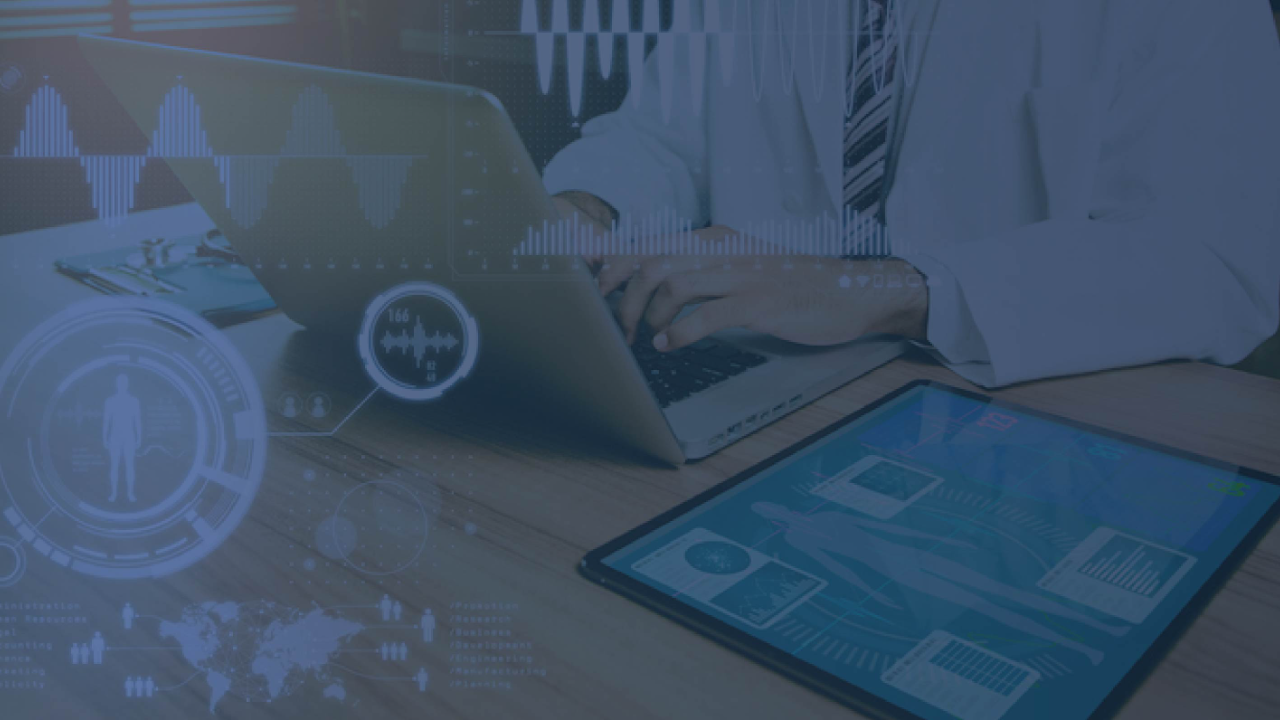 2020 was a transformative year for healthcare.

When our healthcare system was hit with a global health crisis, health IT organizations worked quickly to help care teams launch and scale virtual care programs. This included implementing and updating new technology, integrating workflows, and laying the groundwork for a new standard of care amidst an ongoing pandemic.

Overnight COVID-19 changed the way that patients are managed, engaged, and monitored. In 2020, we saw providers shift from small programs and investments in virtual care – often serving hundreds of people per month – to broadscale deployments serving thousands or tens of thousands of people per month all while managing an egregious revenue crisis, personnel shortages, and capacity issues.

As we look back on 2020, we, at Validic, are proud to say that we helped provide the framework for timely and critical health interventions, deeper insight on lifestyle and health trends, and ongoing care delivery delivered remotely. With our new products, data sources, and capabilities, Validic is creating a vast toolset for health organizations to better understand, engage, and manage their populations. Below is a look at our biggest product releases of 2020 and where we are headed in 2021.

Validic's COVID-19 rapid response
In March, as the reality of the COVID-19 global pandemic set in, our team quickly mobilized and launched a COVID-19 Rapid Response solution. Our solution enabled clinicians and HR administrators to enroll thousands of people quickly – using self-reported data and alerts to monitor for the critical symptoms of COVID-19. This includes body temperature, difficulty breathing, cough frequency, oxygen saturation (SpO2), heart rate, exposure, and more. Our solution provides insight for clinicians, public health officials, or those monitoring frontline workers to direct people to testing, the emergency room, or quarantine. It also flags when a quarantine has ended with no symptoms reported.
This includes body temperature, difficulty breathing, cough frequency, oxygen saturation (SpO2), heart rate, exposure, and more. Our solution provides insight for clinicians, public health officials, or those monitoring frontline workers to direct people to testing, the emergency room, or quarantine. It also flags when a quarantine has ended with no symptoms reported.

Our COVID-19 Home Monitoring solution is available to organizations that planning how best to reopen their offices, monitor their staff, or who want to remotely monitor high-risk patients at home.

Turnkey remote patient monitoring
Validic's Remote Patient Monitoring solution, Validic Impact, was designed to be fully integrated into electronic health record (EHR), care management solutions or other workflows. As health systems continued to be upended by COVID-19, many organizations needed to launch quickly – without working through internal IT roadmaps or taking time to integrate RPM functionality into the clinical workflow. As a result, our team created a standalone version called, Validic Impact: Rapid Deployment.

Validic Impact: Rapid Deployment offers providers a standalone, web-based application to manage remote disease management programs. The solution is designed for:

Rapid Deployment and Scale – with no integration and minimal configuration requirements, providers can deploy comprehensive RPM programs within days
Protocol Template Creation – create standard templates for the conditions you want to manage with default programmed alerts, consent language, etc.
Quick Patient Enrollment – invite a patient to a bring-your-own-device (BYOD) program within seconds – enabling them to consent and connect their device from any browser
Personalization for Monitoring – easily adjust and personalize goals and alerts for each patient; automate outreach to patients who are not submitting readings, trending in the wrong direction, or flag readings of concern for timely interventions
Patient Support – use separate support management tools to identify and assist patients with technical or device issues.
Learn more about Validic Impact: Rapid Deployment here.

Validic HealthBridge
To enhance Validic's investment and solutions to support RPM, Validic also announced the creation and availability of our iOS and Android app, HealthBridge. As a companion application to Validic Impact, HealthBridge allows organizations to deploy a full-suite RPM program with clinician dashboards, patient engagement, and analytics. The app allows patients to connect their home-use medical device(s) to their provider's RPM program.

With the app, program participants can passively collect their physiological health data via Bluetooth devices. As new data is captured on their health device(s), it is automatically uploaded to the app and shared with their provider – allowing care teams to have near real-time visibility into a person's health status with little requirements on the patient.

Suppose the participant submits several high blood glucose values over several days. In that case, an alert will be triggered in the Validic Impact RPM system notifying the clinician, care manager, or patient to take further action.

Learn more about Validic HealthBridge here.

Notable features, capabilities, data sources, and accomplishments
Core to Validic is our health data platform, Validic Inform, providing connections to nearly 500 health devices and apps. Our team was hard at work adding new data sources, features, and capabilities.

Mobile SDK support
In 2020, we introduced our Software Developer Kit (SDK) to access Google Fit. Additionally, as Apple and Google came out with new versions of their OS, we added support for iOS 14, Android 10, and Android 11 mobile SDK.

New devices & data sources
In 2020 we added a new data type to support respiratory metrics and a new respiratory-focused device, the GoSpiro Home Spirometer. In 2021, we will continue to add more respiratory metrics such as inhaler usage, new sources for peak flow, and new spirometers.

A large part of our focus for 2020 was adding clinical metrics to our platform. You will see several new blood pressure devices added from Withings and Omron in the image below. Additionally, Zewa is a new manufacturer that we partnered with in 2020 – adding their pulse oximeter, weight scale, and thermometer.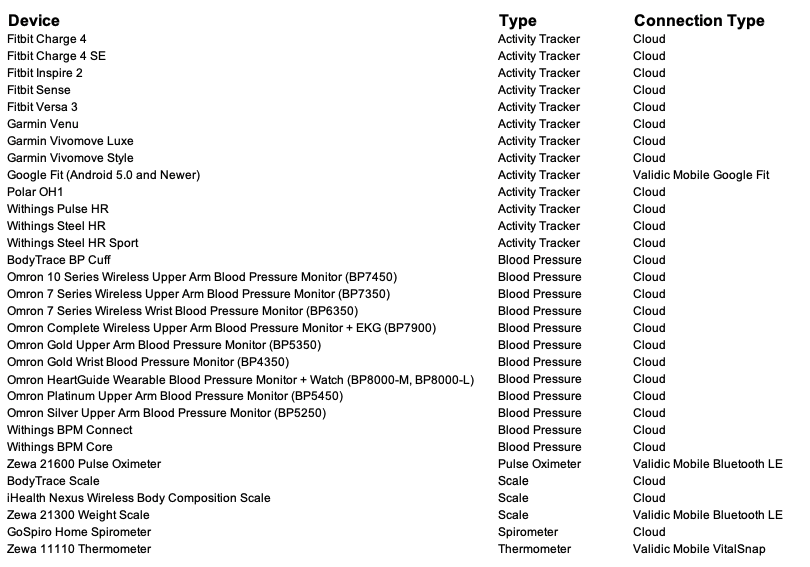 Validic Impact: heart failure program & SPO2 metrics
Last year, we added additional features to Validic Impact to support Heart Failure and other chronic condition use cases. Programs can now be created to monitor weight, blood pressure (including pulse), and oxygen saturation.

We added a weight change notification that can be configured to trigger weight gains or losses (of greater than or less than a certain number of lbs) over a duration of time (hours/days); for example, a clinician can be notified if the patient gains 3 pounds in a day or 5 pounds in a week.

We also added support for oxygen saturation and can alert on low average or individual SPO2 readings. On top of our existing support for Blood Pressure, these additions allow our customers to create robust, personalized Heart Failure programs (and various other types of new programs) within Validic Impact.

Additionally, Validic Impact now supports full ETL capabilities for reporting – meaning all data, configurations, and program information that exists in Validic Impact is available to clients.

Client-accessible reporting through Sisense
Sisense is a business intelligence (BI) platform that we added in 2019. This tool is helping create client-accessible reporting detailing the events and trends inside a clients' deployment of Validic. The BI platform pulls insights for clients, such as how many people are connecting devices, what data sources they are connecting, how often they are sending metrics, the average number of steps they take in a day, or the average number of measurements someone is submitting in a day. All of those data are standardized and delivered in a set of reports that we provide to our clients. This tool helps our clients drive change using AI to predict population outcomes and trends based on their incoming data.

Looking ahead to 2021
At the end of 2020, we restructured our product and engineering team with a renewed focus on adding more data sources. This renewed focus calls back to the core value of Validic, which is to deliver continuous access to personal health data from the full spectrum of health data sources on the market. We remain committed to powering scalable health incentive and virtual care programs for healthcare organizations. We expect to exceed 500 in-home connected medical devices and wearables in 2021.

2020 was not the year that we expected it to be; nevertheless, our team at Validic and our clients accomplished incredible things and met every obstacle with resolve. As we move into 2021, our hearts continue to be with the patients and their families who are battling COVID-19, the providers on the frontlines that continue to make daily sacrifices amid ongoing capacity issues, and the first responders, essential personnel at grocery stores, gas stations, sanitation workers, and so many more.
---