Scaling patient care: The road to controlled hypertension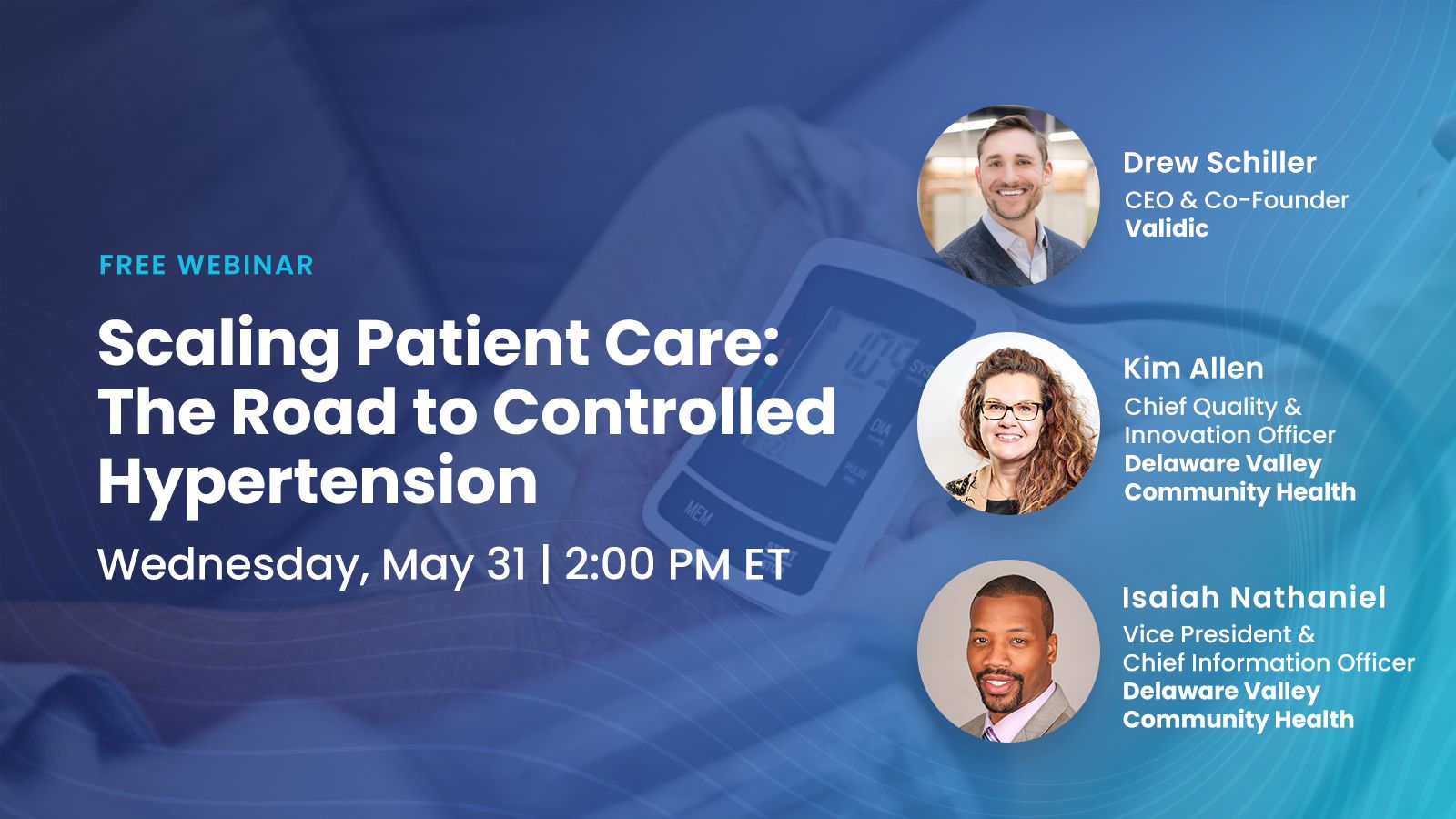 Healthcare organizations serving high-acuity patients often struggle to care for more and more patients while improving outcomes. We explored how Delaware Valley Community Health (DVCH), an affordable care provider for underinsured and uninsured patients, navigated those challenges in our latest webinar.
Our CEO Drew Schiller joined Kim Allen, chief quality and innovation officer, DVCH, and Isaiah Nathaniel, vice president, chief information officer, DVCH to discuss how they improved hypertension scores for more than 1,000 high-acuity patients using a remote patient monitoring program.
Access the full on-demand webinar recording to hear their entire conversation. Read the highlights below.
Overcoming limitations in patient condition & scale
Every healthcare organization treating high-acuity patients faces the same challenge: improve health outcomes for more and more patients with the same resources and clinical staff. In business for more than 50 years, DVCH faced that same issue with a new wrinkle: a global COVID-19 pandemic.
Kim Allen: "We were set up perfectly for the pandemic because we were able to capitalize on our telehealth visits. With the technology that we put in place in January of 2020, when the height of the stay-at-home orders came at the end of March into April, we continued to scale across our nine sites in southeastern Pennsylvania to reach 50% of our hypertension patients within two years of the grant cycle."
The pandemic affected more than the program's rollout and execution; it also reframed the mission and mindset of program contributors. DVCH team members – from executives to frontline healthcare workers – embraced the purpose of the hypertension program:
Isaiah Nathaniel: "It was not just an IT project. It was not just a quality project. It was everyone's project from CEO on down, from clinical operations, finance, billing."
On the shared responsibility of primary care:
Kim Allen: "Primary care is a team sport. …We have a clinical pharmacy team that actually works with our provider team and our care coordination team who did the bulk of the work with our providers to be able to deploy this program and make it actionable. …Additionally, we had to really partner with external stakeholders [NextGen Healthcare and Validic]."
DVCH operated with urgency in creating a program within a short period of time. This trend — of building and launching short-term programs as a pandemic response — wasn't unique to Delaware Valley:
Drew Schiller: "Most healthcare organizations responded extremely well and got things up and running that were necessary, that were not in place before in a short amount of time. That showed us we can drive change when the right incentives are aligned."
In the months that followed the program launch, DVCH finally found the flexibility to take a step back and assess long-term priorities. One of those priorities was to grow the program without compromising the quality of care for currently enrolled patients. Growth efforts should also make sense from a financial perspective.
These "pressure-test" questions represent a new growth stage for many healthcare organizations after the pandemic's arrival:
Drew Schiller: "We're now seeing healthcare organizations ask much harder questions that are designed to pressure test what was put in place in the short term. How can we make remote care part of how we deliver care? What does that mean for our organization?"
Program growth should also account for any population-related challenges, including initial conditions and retention over time. Delaware Valley was no stranger to high-acuity populations: UDS hypertension metric control scores were barely 46% in 2021.
The remote nature of care made hypertension control even more complicated for DVCH. Remote patient care would take place at home, with patients using provided devices to monitor their own vitals.
DVCH considered all angles before signing off on the program:
Kim Allen: "Not only did the clinical community look at [the program], the technology community looked at it, our compliance department looked at it, we looked at it from our pharmacy lens. We had all of those team members at the table to really mitigate or put those guardrails up."
The result wasn't a fail-safe program, but rather a hypertension treatment regimen with the best chance to lower scores without the need to treat patients in the office.
The risk-tolerant, patient-first approach worked even better than expected. DVCH exceeded end-of-year goals by June 2022, achieving double-digit gains to 55% UDS hypertension control by December. They addressed and overcame social determinants, and used Validic's remote care platform to provide doctors and clinical teams with remote patient data that informed better care.
Read the full case study and listen to the full webinar recording to learn more about DVCH's successful program.
---