Q&A with Drew Schiller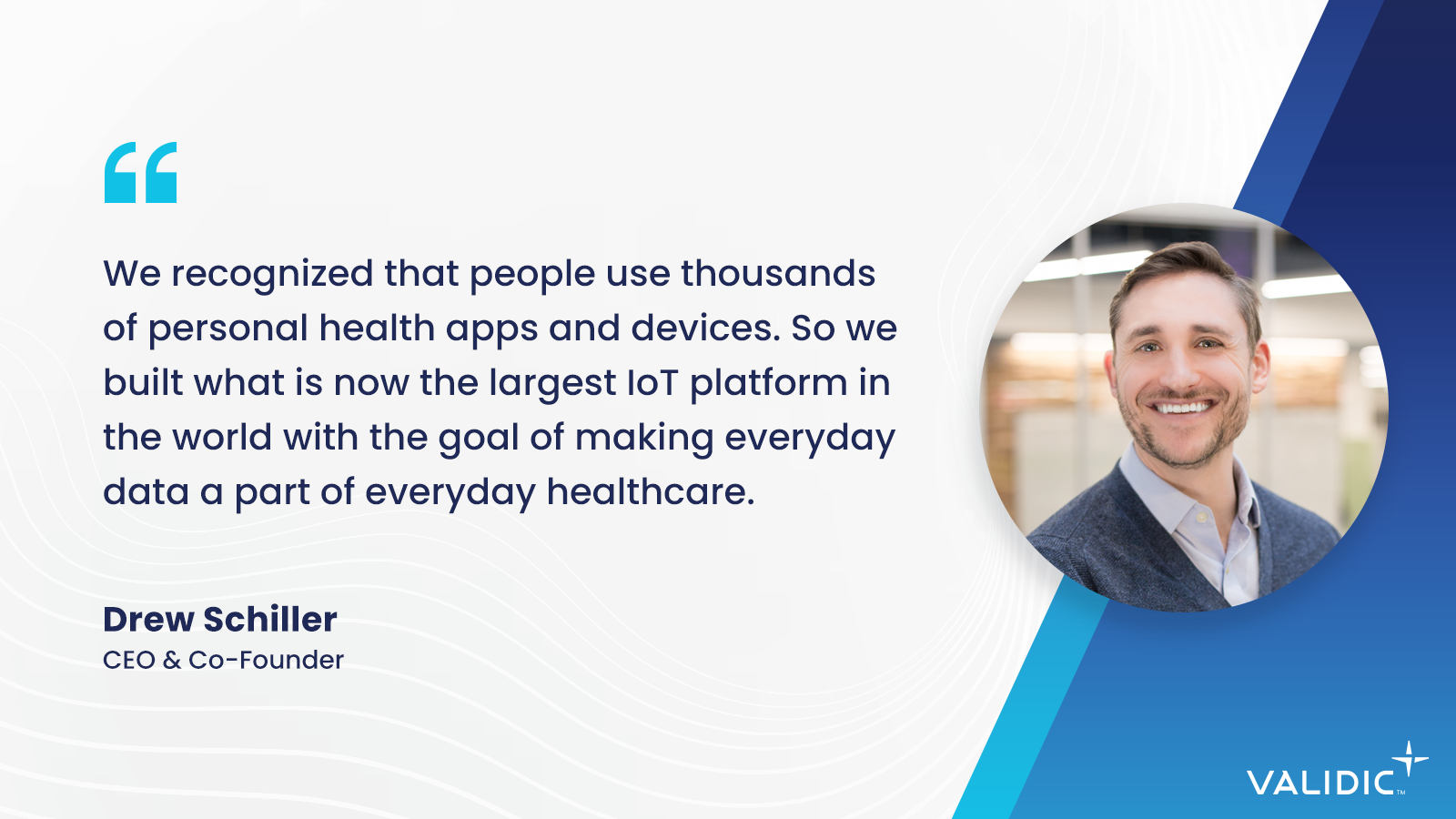 Validic CEO Drew Schiller recently participated in a Q&A with Avia Connect, a platform for hospitals and health systems to find digital health solutions.
Can you tell us about your company and the challenges you are facing in the remote monitoring space?
More than 100 million Americans are living with chronic conditions that could benefit from remote monitoring and virtual care each day. Most RPM programs today are based around sending people a kit with devices, and the data lives on a point solution dashboard. Scaling these programs to a population is impossible due to cost constraints and clinical operations barriers. We believe that to scale remote care to everyone who needs it, solutions must be highly affordable at scale and deployed in the clinical workflow to gain clinician trust and adoption.
We launched Validic while thinking about how our daily activities matter greatly to our health and longevity. Yet healthcare providers don't know what actions we're taking, and therefore can't consider them when providing care. We recognized that people use thousands of personal health apps and devices, but the data are locked on our phones. So we built what is now the largest health IoT platform in the world with the goal of making everyday data part of everyday healthcare.
How does your company differentiate from other remote monitoring vendors?
Validic is a digital health platform. We help healthcare providers offer remote care at a population scale. While other companies in our space only provide remote monitoring, we're a remote care workflow tool. We provide an easy way for clinicians to understand what is happening in people's daily lives by capturing biometric and qualitative data. We help these clinicians work more effectively and efficiently and deliver exception-based care by separating signal from noise. In this way, clinicians can spend less time checking in on patients and focus their efforts helping those who need it most.
What are some of the biggest changes your company has seen around how health systems are approaching remote monitoring since 2020?
Remote care is inevitable, and today, most healthcare organizations use some form of remote monitoring. This is because since 2020, consumers now expect hybrid models of everything — including healthcare.
The biggest challenge the industry has today around deploying remote care is finding a revenue model that makes sense relative to the ambitions of the programs. Remote care drives utilization of lower-cost services, such as telehealth calls and clinic visits, and improves overall quality of care and condition management. This is the type of care clinicians want to deliver and people deserve; therefore, I am confident we will find a way to achieve scale.
What does an ideal client look like? How are health systems best organized for success in remote monitoring?
Our ideal client has tried remote patient monitoring in the past. They know that the clinical outcomes are there, but they question how this will scale operationally and financially. They see that deploying RPM in the clinical workflow is critical for getting buy-in from clinicians — physicians, nurses, and medical assistants.
These clients have often committed to care management at scale. They have a centralized care management function, and they are looking to drive a high quality of care for more people with the same resources.
What measurable outcomes have you seen from your clients who have prioritized remote monitoring?
We work hard to help clients every day create better health outcomes. Today, we're deployed nationally across seven regions in the EHR clinical workflow, where 7,000 clinicians have enrolled 300,000 members.
The data we provide to clinicians help them advocate for better health outcomes, when patients are in a facility or at home. For example, within six weeks of using our platform to monitor outcomes, clinicians have helped patients with hypertension return to a normal range. Clinicians have also used our platform to help diabetic patients drop their A1C by 1.2 points. Patients with A1C levels above 9 dropped an average of 2.3 points.
We also want to help make providers' lives easier. 88% of physicians who use our platform say that it saves them time. 90% of physicians now say they're delivering better-quality care.
What major functional enhancements and/or product investments are you making in the near term to keep up with the evolution of remote monitoring?
We recently released a tightly integrated remote care chat and survey solution that captures additional context around an individual's condition or a particular reading. For example, if a person being monitored with heart failure gains more than three pounds in 72 hours, we can ask, "Did you step on the scale? Are you having shortness of breath? Are your fingers swelling?" We can then provide this information alongside the clinical alert so the care team has more immediately actionable information.
We are also always investing to advance our capabilities to take advantage of the latest technologies, such as continuous monitoring devices and other novel data types.
How is your company partnering with clients as reimbursements and use cases shift?
Every health system today has a different mixture of priorities, patient populations, and reimbursement models. As a configurable solution built on top of a flexible platform, we partner with clients to create solutions that meet the needs for their population and clinical objectives.
What are the biggest opportunities health systems should be thinking about this year when it comes to remote monitoring?
Every day, more people need more care. 10,000 people age into Medicare each day, and eight of 10 U.S. seniors have one or more chronic conditions. And yet, we are facing a massive workforce shortage that will only get worse. An integrated remote care strategy is needed to deliver the quality of care people deserve with staff already stretched thin. This strategy will help team members know who really needs help now while knowing that others in the population are okay. An integrated remote care strategy also automates a lot of pre-visit prep and manual data collection, helping drive in-clinic and telehealth efficiency for nurses and support staff.
How does you see remote monitoring evolving in 2023 and beyond?
Technology was once a barrier to effective remote patient monitoring. That's no longer the case. More companies will adopt remote patient monitoring and solve any financial or operational challenges that currently keep them from using RPM.
Long-term, we're excited to deliver even better-quality RPM. Everyone enrolled in these programs loves the experience. It makes life easier for everyone involved, and helps providers offer care in the ways patients want to receive it.
---