Meet Paul Crevoisier, manager, supply chain logistics
Meet the Team
Date: 08.03.2023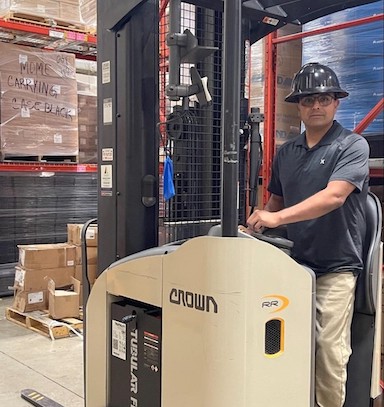 #ValidicProud
On May 15, Validic announced that it acquired the assets of Trapollo LLC, a connected health, technical support, and device logistics provider. For Validic, it meant rounding out its core capabilities in data collection, processing, and integration into EHRs with in-house logistics and support. But perhaps more importantly, it meant welcoming new team members with sophisticated knowledge of and expertise in device logistics, program management, and patient technical support.
Paul Crevoisier, manager of supply chain logistics, is among the group of talented individuals who joined Validic in May, having worked at Cox Communications for 31 years and Trapollo for 3 years. Paul and his wife of 33 years are now empty nesters who live in Stafford, Virginia, with a daughter recently married. As a lifelong soccer player, Paul said with a smile that a goal is to someday play soccer in a league with grandkids.

Paul Crevoisier, manager of supply chain logistics, tests a forklift at the Validic Logistics warehouse in Sterling, Va.
Adrienne Rupp: After learning that Validic would acquire the assets of Trapollo from Cox Communications in May, you opted to accept a new position as manager of supply chain logistics with Validic Logistics LLC, a subsidiary of Validic Inc. What made you decide to come work for Validic?
Paul Crevoisier: After I learned of the purchase, I conducted research to learn more about Validic. I was impressed by the mission, the company, and the positive work culture. It was an opportunity to grow alongside a great company. The combination of logistics and software made the decision an easy one.
AR: It's been about two months since the acquisition, and full integration of the two companies is still in progress. How has your experience been so far? Have there been any surprises or unexpected learnings?
PC: For us on the warehouse and supply chain management side, it has been crazy busy. We have focused on moving inventory from our former facility in Phoenix, Arizona to our warehouse in Virginia. But it's been an incredibly positive experience being a part of the Validic team. I love how Validic loves its employees. How you get together and have time together, even if only virtually. It's not just a job; it feels like home. The culture I feel at the warehouse – it's about making happy employees. And happy employees work harder.
AR: Tell me about your former role at Trapollo and how it is the same or different from your current role at Validic.
PC: I have pretty much the same role here as at Trapollo. I have more responsibilities at Validic Logistics. I am more involved with clients and more involved with different programs. Communication has to be there 100% of the time.
Every day brings a variety of different tasks, which I love. I meet daily with our senior warehouse operator for project updates and to prioritize daily tasks. I check on the warehouse team to ensure they have all the tools they need. I check client inventory and ensure we don't have a shortage, and make sure I'm notified of orders and backorders. I often address special requests by email. Client support, program support, and the warehouse need to always be communicating.
One of my most important responsibilities and that of my seven warehouse team members is ensuring our SLAs (service level agreements) are completed daily by 3:00 PM. Orders must be fulfilled by then. But we always try to exceed that. If a client places an order for next-day air, we will fulfill orders all the way to 6:30 PM. We want to ensure patients have the equipment they need.
AR: What combination of skills and experience do you rely on in your position?
PC: I am fortunate to have a dedicated and collaborative team that goes above and beyond to ensure success. After 31 years in the supply chain management field, I have acquired a number of valuable skills to overcome challenges and turn negative situations into positive outcomes. I have to know the inventory well and be organized, as we serve many clients at Validic. My mantra is quality, quality, quality. I make sure everything is where it's supposed to be.
AR: What do you enjoy most about your role in supply chain management?
AZ: During the pandemic, we were shipping kits for non-Covid and Covid patients. Some kits would come back and I would receive thank-you letters from patients or relatives expressing gratitude for helping them recover. That's when I realized, this is more than just a job. We are contributing to the healing process. That's what satisfies me. That's why I focus on quality, quality, quality. The last thing we want to do is send a kit to a patient and it's not working correctly.
AR: What's one item on your bucket list?
PC: I am originally from Peru. My wife is Romanian. I hope to take my wife and daughter to Peru to show them where I grew up.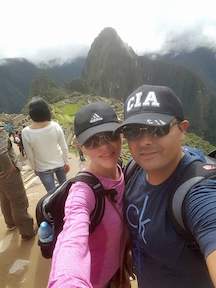 Paul and his wife in front of the famous Incan citadel, Machu Picchu.
AR: And how do you like to spend your free time?
PC: I am an avid soccer player and love cooking. My passion is cooking. I like to try different styles of recipes and put my own touch to them.
AR: What is one piece of advice you'd give someone starting out in supply chain management?
AZ:
Be curious, ask questions, give your opinions. You definitely need to step out of your comfort zone. If you become comfortable in your current role for more than two months, talk to your leader. That's the only way you will grow personally and in your career.
---