Meet Jordan Bowlus, vice president, client success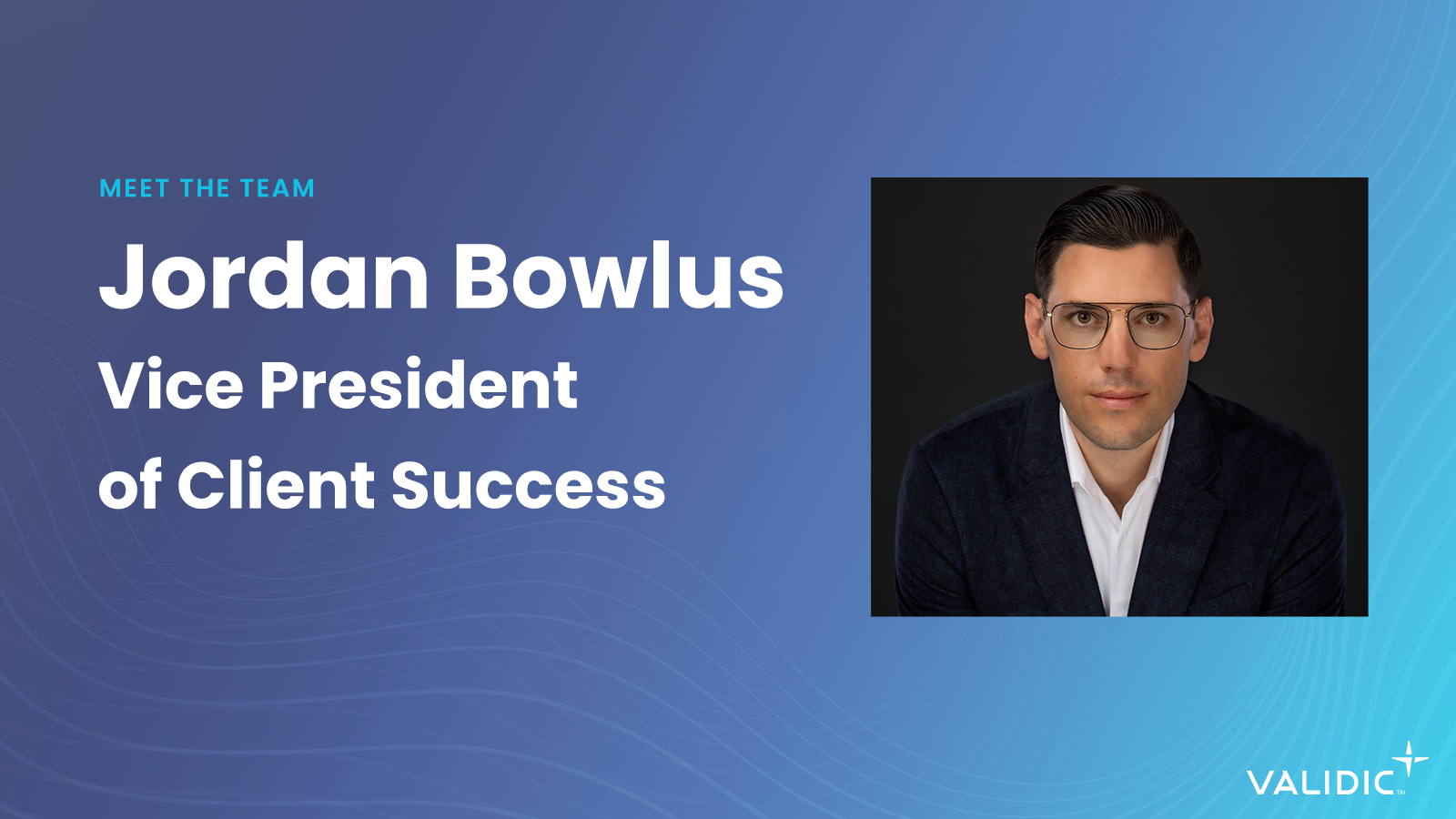 #ValidicProud
In this next piece in our employee spotlight series, I talked with Jordan Bowlus, who was recently promoted to vice president of client success after serving for close to four years as a senior director on the client success team. Jordan graduated from the University of Tennessee with a Bachelor of Science in Business Administration, and currently resides in Jacksonville, Florida, with his wife and daughter, and their boxer, Millie.
"I always try to put myself into the client's shoes. We help clients achieve their goals by actively listening and tailoring our approach to serve their organizational needs."
- Jordan Bowlus, vice president, client success
Adrienne Rupp: Congratulations on your recent promotion to vice president! What made you decide to join Validic?

Jordan Bowlus: It's a great story that I love telling. Before joining Validic, I was with a fortune 500 (healthcare) company as part of a group that developed strategic initiatives. I was tasked with profiling digital health vendors at HIMSS in 2017 and setting meetings with those aligned with our projects. Validic was on the list. Our team sat down with Drew and some former executives, and I came away from the discussion inspired. Right after this meeting, I bumped into an old friend from high school/college who was one of Validic's first 10 employees, and we got to catch up. She shared that Validic was looking to hire a strategic accounts director in the coming months and that I should consider applying. The rest, as they say, is history. I was eager and excited to join a purpose-driven organization innovating in the healthcare industry.

AR: Tell me about your new role here as vice president of client success and how it differs from your previous role.

JB: In my previous role at Validic, I worked directly with our national clients, understanding their needs and goals and helping them maximize their investment in Validic. In my new position, I've zoomed out to consider our entire client base and support the stellar account executives managing those relationships. Additionally, I spend much time thinking about and planning the future of what client success means to Validic and our customers beyond retention and growth objectives.

AR: What is a day in the life of a client success leader like? What kinds of tasks, meetings, deliverables are part of it?

JB: I still spend a decent amount of time maintaining close relationships with key clients and their projects. I also frequently meet with members of my team on various items ranging from renewal negotiations, strategic account reviews, client feedback, and professional development. I also meet with stakeholders across the Validic organization ranging from product, implementation, and support to leadership, typically in service of our clients. I'm tracking our client's retention and growth on an ongoing basis, among other key performance metrics like net promoter scores.

AR: What does client success mean to our clients? Beyond implementation and training, how do we work with clients to help them achieve their goals?

JB: I always try to put myself into the client's shoes. I imagine I am responsible for the partnership with Validic and measuring and reporting on whether Validic delivered. Our goal is to make it a no-brainer for our clients when they consider whether to continue/expand their relationship with us. We help clients achieve their goals by actively listening and tailoring our approach to serve their organizational needs. There is no one-size-fits-all approach that we can take. Client success also means that we are transparent with our clients to build credibility and respect as partners; sometimes, this means having direct conversations and holding our shared teams accountable.

AR: What type of skills, education, training do you need for your role or similar roles?

JB: Having a strategic mindset, strong negotiation abilities, and a high comfort level with presenting are some of the critical skills necessary to be successful in a client success role. Practical skills are also needed, like managing data in Excel and developing narratives in PowerPoint. From an education standpoint, a business administration background with experience in healthcare goes a long way. Ultimately, however, we can coach the skills necessary to be successful if you have the right mindset and drive.

AR: What do you enjoy most about your role?

JB: It's still somewhat of a new dynamic, but I enjoy coaching and mentoring my team members. People throughout my career, including at Validic, have invested their time and energy in me, contributing to my professional growth. I feel honored to be able to pay much of that forward and hopefully have a similar impact on others.

AR: What's a time or situation that really stands out to you as a proud moment during your tenure at Validic?

JB: I'm honestly proud of my tenure at Validic and the evolution of the client success team. If I had to single out one situation, I would have to point to recent efforts to complete our partnership with Oracle Cerner, which was a years-long and company-wide effort. I will look back on it as a personal and organizational achievement and milestone.

AR: What's one thing on your bucket list?

JB: There are a few items on my bucket list, but one big one is to see The Late Show with Steven Colbert live in New York. I've been a big fan of his since his days on the Colbert Report.

AR: When you're not at work, how do you spend your free time?

JB: I spend a lot of quality time with my family; I spend evenings cooking and teaching my daughter how to play and lose gracefully at chess. I also enjoy playing pickup basketball a few times a week with friends, relaxing at the beach, and watching the Tennessee Vols play on Saturdays (and win for a change). My wife and I also love to travel to new places and experience new cultures and adventures, and we try to travel a few times a year to somewhere new.

AR: Finally, what's one piece of advice you'd give to someone starting out?

JB: There are a few bits of advice that I can give that have served me well over the years. First, always lean into good coaching; it's an opportunity. Be persistent and consistent; a can-do person goes far. Second, career success is rarely "up and to the right," so be resilient if things don't go your way and get back after it. Lastly, never say no to an opportunity to do something that challenges you; this is where the growth is.
Validic is hiring! View our open roles at validic.com/company/career and read more about what it's like to work for Validic.
---