Meet Gabe Maeck, LCSW, senior client success executive
Meet the Team
Date: 05.31.2023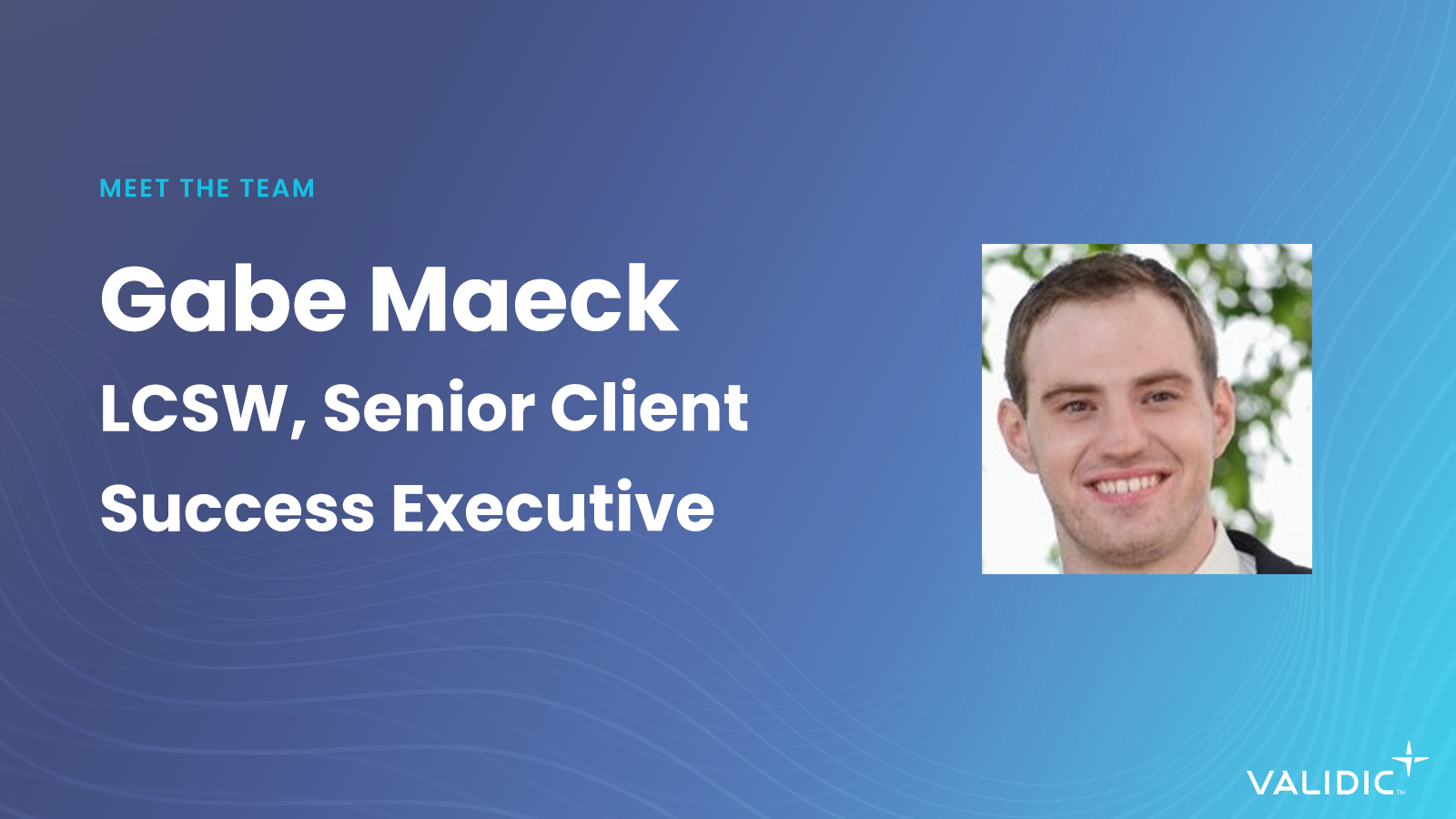 #ValidicProud
I spoke with Gabe Maeck, LCSW, in our most recent employee spotlight. As senior client success executive, he maintains relationships with key clients, helping them set and attain organizational goals and ensuring they get value out of the products and services Validic provides. Gabe graduated with a Bachelor of Arts degree in forensic psychology from John Jay College, and completed a master's degree in social work from the University of Minnesota. He practiced clinical social work in Minnesota and North Carolina, and maintains an active clinical license in North Carolina. Gabe lives in the Raleigh-Durham-Chapel Hill area with his family.
Adrienne Rupp: Why did you decide to join Validic?
Gabe Maeck: I was a mental health clinician working in the field with at-risk patients, most of whom had comorbid conditions. I worked on an interdisciplinary home health team with all kinds of care providers and specialists. I'd be one who would see those patients most often: we'd have weekly sessions and sometimes they'd only see their physical health provider once a month or as needed.
Often, a health crisis would prevent us from having productive sessions with patients. I'd spend my mental health sessions coordinating with their physical health provider because they might be hypoglycemic or their blood pressure readings were dangerously high.
I realized that way of practicing care was unsustainable, especially in the community. And clients all had their devices at home — but they weren't connected to anything. There was no way to connect their medical readings into the EHRs we were using.
That's when I became interested in exploring remote patient care so I could help offer the exact solutions to those problems that my clinical team and I were facing in the field. I was then thrilled to find Validic and join the client success team. I was honored that the team saw how passionate I was about transforming healthcare. That's how I got my start with Validic – it was 100% mission-driven.
AR: Where does that passion for client success come from?
GM: One of the key reasons I joined Validic is that we're not just helping one patient; we're helping thousands and thousands. And we're not just giving patients better care; we're also improving the professional experience for providers. I want to help patients. But just as importantly, I want to help providers experience less burnout and provide better care.
It often starts with the providers. If they don't have the tools, patients will never succeed. And because we also have patient-facing tools, it's even better.
AR: Tell me a little more about your current role. What do your daily responsibilities look like?
GM: Even when I was a clinician, I considered myself in the business of client success. I didn't view my patients as patients; I saw them as clients. My job was to assess their needs, develop treatment plans, and help them reach their goals.
I view what I do now as a transition from micro-care to macro-care. I used to care for individual patients. Now, I help my clients care for entire patient populations. It's not all that different overall.
On the client success team, we wear many hats and I love how central we are to Validic and our client's operations.
On a day-to-day basis, I feel like I do a little bit of everything. I can go from trying to explore comarketing to examining customer feedback and NPS scores. I am also responsible for contract renewals, client strategy, offering feedback to the product team, managing feature requests, performing executive updates, and working very closely with the engineering and support teams on highly technical issues.
We also work closely with the sales team to map out the client journey and ensure our clients have long-term success in their partnership with Validic.
AR: What combination of skills and experience do you rely on?
GM: I am so grateful to work with a fantastic team at Validic who helped me develop my business and technical skills as I transitioned from the clinical to healthcare IT field. I also rely significantly on my clinical background to guide me in this role. As I was a clinical end-user of technology myself, it helps develop rapport and empathy with my clients as we collaboratively address their pain points and come up with solutions together.
AR: What do you enjoy most about your role?
GM: My favorite part of the job is solving client problems. When we're on a call or an email — and a client is struggling with something — I really do love finding solutions within our product to help customers become successful. And it helps us fulfill their mission even more. That's absolutely my favorite part of the job.
AR: What's one item on your bucket list?
GM: I really want to visit Bora Bora with my wife and two daughters. I want to stay in one of those over-the-water bungalows. That's always been on my bucket list. Same with my wife.
AR: And how do you like to spend your free time?
GM: I'll spend most of my time with my family. I have a ten-month-old and a six-year-old, so I don't have much time to myself, other than caring for them. We get a lot of dance parties in this house.
AR: What is one piece of advice you'd give someone starting out in client success?
GM: One piece of advice would be that you have to be flexible. In client success, you'll have days where you feel like you're being pulled in every direction, which is one of the things I most love about this job – there is never a dull moment. But as long as you care about what you do and you have a great team around you, you'll be okay.
Also, make sure to connect with the end users of your product. Make sure you understand how people use your solution, like case managers and nursing teams who interact with your technology every day. Those feedback sessions are so important.
---