How top healthcare organizations can improve patient follow-up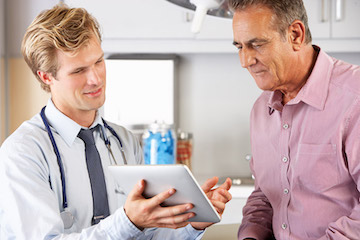 Personalization is now a must-have in nearly every industry. Netflix suggests shows based on our watch history. Hotels customize your room's amenities based on your previous stays. Social media algorithms feed you content based on personal interests.
Personalization is everywhere — but it's a fairly new concept. Today, many banks default to paperless statements. Less than a decade ago, those same banks charged additional fees for online banking access.
Healthcare could learn a lesson from personalization, even if it's a few steps behind. Even after the initial population health analytics platform boom in 2010 after the American Recovery and Reinvestment Act of 2009, healthcare organizations still struggle to personalize care on a large scale.
Patients wait extended periods of time for appointments with already-overworked clinicians. The gap between patients and healthcare professionals is a wide one — and that's before patients leave the office. Patient follow-up suffers from the same problems: overworked clinicians, already facing challenges in connecting with all of their patients, are left without the time they need to ensure patients are doing well in between visits. Follow-up visits with patients directly reduce readmission rates. However, in many cases, healthcare professionals simply can't find the time.
Episodic follow-up meets continuous care
Lack of time and clinical resources aren't the only challenges with healthcare personalization. Many patients only visit doctors when something is wrong, what we call episodic care. While doctors can often treat acute conditions, they are left without much context into a patient's background, lifestyle, or other factors that could impact better long-term health and well-being.
Episodic care has its own limitations. While it might be effective for patients requesting a flu vaccine, it can't address the growing number of Americans with at least one chronic condition.
In the words of our CEO and Co-Founder Drew Schiller:
"Provider-generated health data only offers a point-in-time snapshot. This data is vitally important, but provides an incomplete picture of overall health and doesn't accurately reflect everything that is really happening with a person's life. It's like trying to understand the plot of a movie through a series of random screenshots."
Doctors need access to continuous health data — the same information we generate every day. This data provides insight into our activities, diet, habits, mood, home environment, social interactions, and other behaviors that affect our health and well-being.
This information isn't just important during a patient's initial visit. It also leads to more meaningful follow-up visits, particularly for patients trying to improve. Without rich context and information about what has happened in between visits, doctors must ask the same routine questions during every follow-up visit.
What does improved patient follow-up care look like?
Patient follow-up care should use technology to accomplish what no clinical team can: remotely capture and interpret personal health data. This technology does more than remotely collect information; it also highlights trends in that data that are immediately useful to clinicians providing care. Technology that gathers data and interprets it can help clinicians create an additional 500 billable hours each year.
Here's what technology-enhanced patient follow-up looks like in action:
Samantha* is a 79-year-old patient whose heart failure elevates her risk for hospitalization. She's recently been hospitalized with reduced ejection fraction. Her doctor suggests a remote chronic care management program so she enrolls in an active monitoring program to help manage her condition. The program creates a high-touch, kit-based experience — one that's easy for her to use and for her doctor to interpret. Without much extra effort on her end, she can record information on her daily vitals, medication adherence, and symptom development. Her monitor automatically alerts her practitioner if her symptoms, weight, or medication adherence changes beyond a safe range.
During follow-up appointments, Samantha reviews the data her devices collect with her primary care physician, cardiologist, and nurse care manager. Using that information, they provide personalized guidance on how to avoid further high-acuity episodes.
Matthew* is a 50-year-old patient with diabetes who is already motivated to improve his health. He has his diabetes almost under control thanks to his care team: he dropped his A1C to 5.9 and lost 40 pounds. Given his progress, his doctor moves him to a less intensive personalized care program with quarterly check-ins. He still measures his glucose regularly and his readings are automatically synced with his electronic health record (EHR).
During regular follow-up appointments, Matthew reviews those readings with his care team and discusses how medication or lifestyle changes might lead to further improvement.
New heights in informed follow-up care
A well-designed remote care program can dramatically improve the quality of follow-up appointments. Personalized care allows patients and providers to treat conditions continuously, rather than episodically. Armed with new insights using technology as a force multiplier, doctors can provide customized recommendations for more accurate care.
This technology improves the efficiency and accuracy of patient follow-up appointments while keeping it simple for patients. Technology remains as invisible as possible. For example, a patient might dedicate 2-3 minutes in the morning to measuring their glucose level. If everything is on track, the patient can go about their day. If something is wrong, their doctor is automatically notified for a follow-up message or call.
Simplified follow-up also helps improve patient adherence and retention. Across more than 160,000 participants in Validic-powered personalized care programs, 75% of patients still actively capture and share their metrics on a daily basis after 90 days of enrollment.
To cite one satisfied patient in our program:
"I love the fact that they get my results right away and this also makes me want to take better care of myself."
For more information about Validic's personalized care solution and how it can improve follow-up care, email us at hello@validic.com or contact us here. Stay connected with us @Validic on Twitter and LinkedIn.
*This story is an illustrative example and not based on real patients. Any similarities to real people are unintended and purely coincidental.
---