5 ways doctors can use your personal data today to manage your health
I recently read through Deloitte's Connected Consumer Survey 2023: How is digital life evolving and how can tech companies drive the next wave of adoption? The survey encompassed all aspects of digital life - from smart homes, 5G, and hybrid work to remote learning, virtual healthcare, and data privacy and security.
What I found particularly fascinating was the research around virtual healthcare and wearables and survey questions that asked respondents, in the next 3-5 years, how interested they would be in the following "futuristic" healthcare experiences: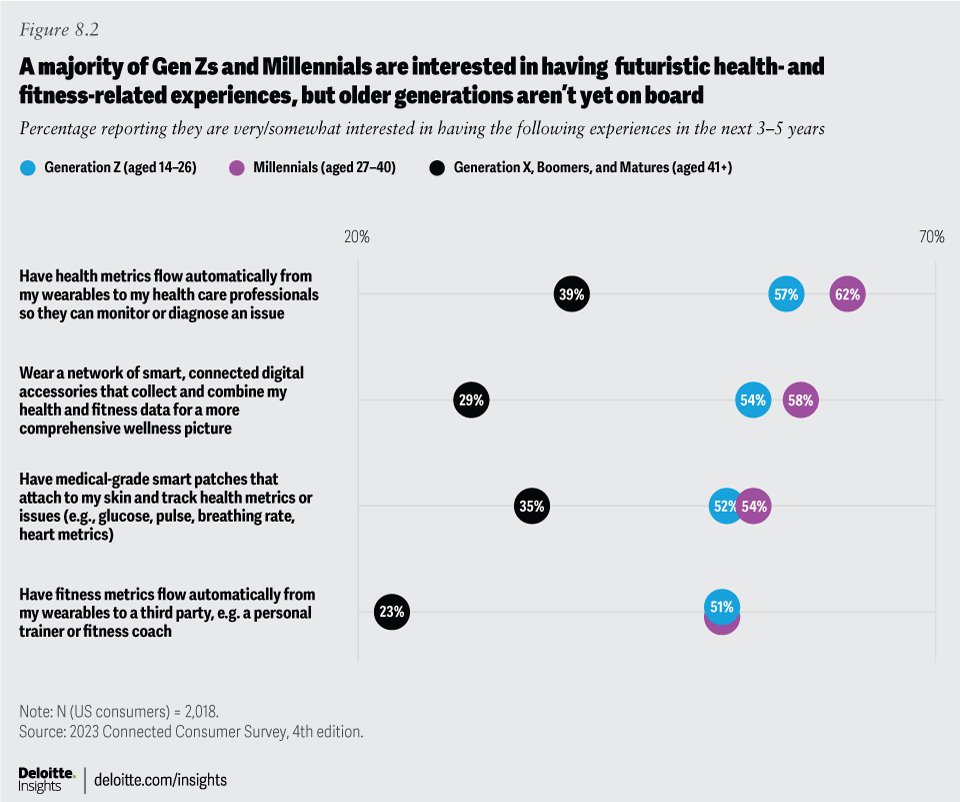 The fascinating part of this survey is the characterization of these experiences as "futuristic." All of this is possible - and being done to a certain extent - today.
Validic's API connects an ecosystem of more than 570 health and wearable devices - from Apple Health, FitBit, and Garmin to Samsung Health, Google, Withings, Zewa, and Oura (view our complete list of connected apps and devices) - to any third-party system with a place to put the data. Many of our clients - like AARP, Active Health Management, Virgin Pulse, Philips, WellRight, and Onlife Health - with an active user base and their own health or wellness app have built integrations to our health IoT platform using our publicly available APIs and mobile SDKs (software developer kits). This allows their users to share their personal health data from the devices they use on a daily basis.
In addition, Validic has built standard integrations with the leading electronic health record vendors - Epic and Oracle Health (formerly Cerner) - that allow health systems and physician practices to incorporate remote patient data into their standard of care. If the health system or physician practice chooses to implement a standard integration with Validic via their EHR, patients can choose to share the clinical data types currently supported by the EHR - blood pressure, heart rate, pulse oxygen, blood glucose, and weight.
"Futuristic" healthcare right now
Here are five ways you, your doctor, and care team could be using the data from your wearable and personal health devices right now to manage your health and wellness.
1. Electronic logging for chronic condition management. Patients with conditions like diabetes and hypertension are intimately familiar with the logbook. The standard of care for managing these conditions is to track daily readings such as blood glucose and blood pressure. Physicians ask their patients to bring these paper logbooks with them to each follow-up appointment, review the results, and make decisions about the course of treatment. Using Validic's standard EHR integration, patients now have the option to collect and share their logbook information electronically with their healthcare provider. The digital logbook data is automatically transferred at the time of the reading, meaning patients only need to test their blood glucose or take their blood pressure and don't need to open an app or manually enter readings. The healthcare team receives the reading within minutes after it is taken.
2. Electronic submission of routine measurements and vital signs preceding an appointment. Everyone is familiar with the measurements typically taken during every doctor visit - blood pressure, pulse, body temperature, respiratory rate, and, where appropriate, blood oxygen saturation. Throw in height and weight for annual wellness visits. During the COVID-19 public health emergency, the Centers for Medicare and Medicaid Services (CMS) released guidance on the self-reporting of these measurements for telehealth visits. Many health systems directed patients to take their vitals and manually enter them via a patient portal. This process can be simplified and automated to support in-person and telehealth visits. As part of pre-visit preparation, patients can take their measurements and the data can flow automatically into the EHR in advance of their scheduled appointment.
3. Home-based cardiac rehabilitation. Recent research shows that patients who participated in a home-based cardiac rehabilitation program following a cardiac event like heart attack or bypass surgery were 36% less likely to experience fatal heart complications within four years than those who did not participate in a program. Often, in-facility cardiac rehabilitation can be a barrier to participation. With the use of wearables, near-real-time data transfer, and standard EHR integrations, more patients can take advantage of home-based cardiac rehabilitation programs.
4. Identify trends and anomalies. I think we can all admit that when it comes to recalling details about our health data from memory, we are pretty poor judges of how often something has happened and under what circumstances. Cognitive biases impede accuracy, which makes it difficult to discuss health concerns with your care team without reliable data.
I remember first discussing with my primary care provider low blood sugar concerns. I am not diabetic (my blood glucose rarely gets above 100 after a meal and is typically in the 80s and 90s). Non-diabetic hypoglycemia is rare and can be caused by conditions like hormone imbalances, medications, tumors, alcohol consumption, kidney or liver disease, or rare enzyme deficiencies. My concern was a perception that episodes of severe hypoglycemia (when blood sugar drops below 50 and physical symptoms like sweating, blurred vision, shakiness, and disorientation emerge) were increasing, but I couldn't accurately assess how frequently and, more importantly, under what context.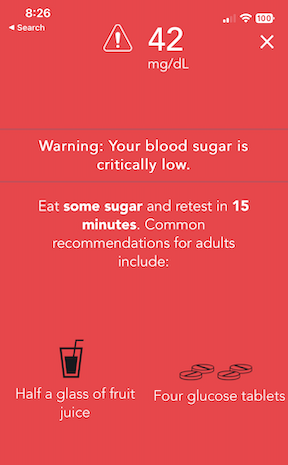 Today, Validic integrates with 60 different types of glucometers, including continuous glucose monitors, and the data flows directly at the time of the reading into the medical record. Whether it's blood glucose, heart rate, blood pressure, or another clinical measurement, this method of remote health data capture and transfer that is available today can help patients and care teams identify trends and have more informed, meaningful, and accurate discussions about health concerns.
In my case, tracking and graphing helped present a more accurate picture of frequency and precipitating events, which led to discussions with my PCP about changes in eating patterns, timing of medications, and correlation with exercise.
5. Remote monitoring following a hospital stay or to manage acute conditions. When people think about personal health data, often they only think about remote patient monitoring (RPM). As we've seen, RPM is just one of many use cases for personal health data. The scenarios under which remote monitoring is provided today are many. Conditions such as heart failure, chronic obstructive pulmonary disease, asthma, gestational diabetes, and preeclampsia may lead to inpatient hospital stays. Part of the discharge plan involves monitoring key vital signs for a specific period of time following the inpatient event and can now be done at home instead of in an outpatient clinic or physician's office, easing the burden on patients who may not have reliable transportation or the time to drive back and forth every day.
The applications for using personal health data to transform how healthcare is delivered and to improve health are endless. This is the definition of personalized care - harnessing your own data from your daily life to inform medical decisions and treatment. As educated consumers of healthcare services, we should accept nothing less. This isn't "futuristic" healthcare. The technology is here now. We just need to demand it. We are all patients.
---